The Pamelyn Ferdin Web Page
All about the ubiquitous 60s and 70s actress
---
Fan Mail Page Two
Here's the second page of commentary from random e-mailers. Yes, if you send me something, I might place it here, minus your name and e-mail address. Jump to fan mail page one, two, three or four.
---
Amazing page! Congratulations! About the credits: Definitely she was in Shazam, and also a voice in Cat in the Hat. Also the Hallmark Hall of Fame movie *is* Miles to Go Before I Sleep, which was a fairly gritty movie, as I remember. I think her character names in Shazam was Amy and in Miles was Lucy, names she often ended up with. I know all this because I had a major crush on her when I was about 12, cutting out the TV Guide photo from the Fall Preview issue for Paul Lynde Show and carrying it around in my wallet. Somehow this was discovered by my friends and I came in for years of ridicule because of it. I probably saw every episode of Curiosity Shop four or five times (I think Chuck Jones underrates it, but of course I haven't seen it for nearly 25 years.) I named one of my cats Pamelyn, too, which seems terribly weird to me now, weirder than carrying around a picture from TV Guide. In about 1982 I found her address in one of those Celebrity Address Books, (or, rather, her agent's address), and sent a fan letter, but that must have been about the time she quit acting, because it came back as "no longer at this address" or something--I don't remember now. Recently there was a screening of What's the Matter With Helen at a little cinema in Seattle, and when Pam came on the screen the row of women behind us started screaming, "Oh my god! I can't stand her!" I'd totally forgotten she was in it, and to tell you the truth it kind of broke my heart to hear her being ridiculed by these people. I had no idea anyone felt so negatively towards her, but I suppose her ubiquity in the 70's could easily cause that reaction.
---
I may be wrong about this, but doesn't Pamelyn have the distinction of being the only person to kill Clint Eastwood in a movie? She knowingly picks poisoned mushrooms to feed him. I think she walks in on him having sex with Elizabeth Hartman, although I saw it on tv when I was a kid and a lot of that stuff wasn't very clear because of what was cut for tv at the time. A still have a vivid image of her picking the mushrooms, though.
Well lets see - there is The Beguiled, Bridges of Madison County, and Honkytonk Man off the top of my head. I think that is it
---
First of all, I just wanted to tell you what a great web page you've got. The pictures and biographical information are very extensive. You've obviously put a lot of work into it! When I saw the picture of Pam as she is today on the page, I was startled! I thought it was a picture of Pam in her younger days. She's obviously still very beautful and youthful looking! I remember Pam in a lot of programs, but two of the memories that really stand out for me are the episode she did of "Sigmund and the Sea Monsters" (I have that one on videotape!) and the time she spent on "The Paul Lynde Show." Well, that's all for now. I just wanted to e-mail you and let you know that you've got a great web page here. I have it marked among my favorite places!
---
Hiya... You bring back so many nice memories of the late 60s and 70s.*smile* I remember when I 8yrs old, I could not wait to get home from school on halloween, To watch "Its the Great Pumkin !! Charlie Brown. I like homepage alot....
---
Wow! Where has she been all this time? Glad someone put up a page about Pamelyn. Wish she get back into acting, but if nursing is what she likes, then I'm happy she's doing ok. I never knew she did THAT much TV!
---
Thanks for putting together your Pamelyn Ferdin web page. I came across an old to do list with the task "Look up Pamela Ferdin." and through the wonder that is the world wide web, I happened upon your page. Thanks for the time and effort you put into the page. It answered a lot of questions I had about Pamelyn, questions I have about a lot of other child stars I grew up watching.
---
Thank you for this website. Pam Ferdin was a very special young actress, and I was certainly impressed with her unique appearnce and her being in so many shows. One friend of mine said, "She either has loads of talent or a darn good agent." She had both, it turned out-although the darn good agent was a pushy stage mom. Thanks for all the information about her - and for the guestbook that shows how many other people were impressed by Pamelyn. I am forver in your debt.
---
Thank you so much for providing a valuable public service! I'm not being entirely tongue-in-cheek here...when you're doing a daily showprep page for 50 radio stations, the amount of information to wade through - and I've been doing this for fifteen years! - is astonishing. To find a web page run by someone who's actually been in touch with its subject is truly a gift from God, especially at 5:00 with a 5:30 deadline! Thanks again. [Ed. note: Everything on the web is absolutely true, or at least true enough for a journalist to believe it long enough to run it in the daily news. And there's no need to check sources.]
---
Hello. I am 26 years old and I have never in my life known or heard of anyone else who shared my name, until yesterday when I found your Pamelyn Ferdin website. I had never even heard of this actress before, though I have probably seen her before without knowing her name. Downloading her picture was the first time in my life I have ever seen another woman named Pamelyn (and knew her name was Pamelyn!). My mother tells a vaguely remembered story about how she saw the name in an onscreen credit line, and liked it enough to give it to me (I was born/named in 1971). I haven't yet had a chance to question her more closely about it. It is very possible that she saw "Pamelyn Ferdin" in that credit. (Unless this story was really about how my sister was named). Using web search engines I have found other women named Pamelyn. I wonder if most or all of us were named after Ms. Ferdin. Do you know her place of birth, and how she was named? Did you ever know of anyone else named Pamelyn?
---
I have been wondering for such a long time whatever happened to this "girl" that I "grew up with"! Thank you SO much for all the wonderful information! I will always remember seeing the TV movie Daughter of the Mind. I think it was one of ABC's first Movie of the Week entries. Pamelyn has such a distinctive voice that I always recognize that it's her in whatever animation she has done. Charlotte's Web was a wonderful film of E.B. White's children's book - and Pamelyn was a wonderful addition to it. Thanks again for the great website!
---
Hi... my memory of Pam..... as a child (young teen) I can remember my sister and I groaning everytime we turned on the TV and saw her...I guess it was a type of jealousy..because she was always on everything...or so it seemed. When I first bought my computer and looked on the internet, I couldn't find any references...now that I know how to search properly, I ran across your page. Like you I always wondered about "whatever happened to PAM" Good Work!
---
I just asked about you in a celebrity newsgroup and someone gave me this web page. I remember seeing you so often when I was growing up that I was wondering what you had been up to. Do you send autographs? I'd be thrilled if you did. I understand if you don't ... because it can be time consuming and expensive. Well, just to hello and thanks for all the fun and entertainment. [Ed. note: I might forward messages to Pamelyn if they are extremely nice.]
---
Have enjoyed looking at your Pamelyn Ferdin web page. Not to long ago I had gotten together with several friends for a dinner date and we were talking about shows we watched as a kid and we all agreed that Pamelyn Ferdin was in EVERY tv show that we ever watched as kids in the late 60's and 70's. She was a busy young actress. Anyway wanted to let you know that there is a neat interview with her in the current issue of STAR TREK COMMUNICATOR magazine. It is sort of a "what ever happened to" series of interviews with various kid actors who appeared in Star Trek episodes. It was a lot of fun to read!
---
Believe it or not, someone just e-mailed me that she works at my hospital, Long Island Jewish Medical Center in Queens! I nearly fell off my chair! I have her on VHS in Bewitched, Branded, 7 episodes of My World and Welcome to It, and five episodes of the Paul Lynde Show! I used to LOVE Pamelyn, her somewhat sassy acting style and her voice! One of my favorite child actresses of the sixties and seventies. [Ed. note: She doesn't work there any more, and she lives on the other end of the country now.]
---
Hello! I just came across your page in an idle night of internet surfing and thought I would drop you a line with regards to what I think was a Pam appearance in an old, old commercial I saw repeated about thirteen years ago on a cable channel called "The Nostalgia Channel." This channel would best be described as "American Movie Classics" with absolutely no budget nor production values for their self-produced segments, and I don't even think the channel exists anymore.
Anyway, The Nostalgia Channel was running old TV ads (similar to TV Land's "retromercials") and on came an old commercial (circa mid-'60's) for a new, improved Barbie doll. After the new features of the doll were demonstrated (a bendable waist, etc.), Pam (I believe it was her) addressed the camera with the question, "But what do I do with my old Barbie?" The announcer instructed her to run to the toy store with her old Barbie and $1.25 (I think) and trade in the old doll for a new one. Pam then ran to the toy store and traded her old doll in.
Don't ask me why I remember seeing this thing, or even how I can remember the detail. I think it's because of the comment my girlfriend at the time made when we saw this ad on The Nostalgia Channel. She said, "I wonder what happened to her? I remember when she was the biggest thing." Come to think about it, Pam's ubiquitousness on TV during the Sixties and Seventies did make her just about "the biggest thing" to people my age (I'm 32 right now). And of course, your web page answers the question, which I guess has been brewing in my subconscious since seeing that old ad, of "whatever happened" to Pam.
Well, I thought you might enjoy that little piece of information, dug up from my sump-pit, pack-rat memory, about Pam.
---
Something really great happened to me today ! I was at The Startrek Convention in Pasadena today. I was there to try to have a good day after having a pretty bad week, Basically I needed to put my head back on, so I chose to lose myself into the Imaginary world of Startrek. I thought to myself no problem it would do me some good.
Walking around in a room where actors were giving out autographs, I was scanning the tables looking to see who I could remember from the movies or pictures. I have to admit I thought I did pretty good, after all it has been years since I'd seen an image of these faces on the television or screen. I was looking down directly in front of Ms. Ferdin when I realized yes I knew this actress not only did I know this actress but I really loved the characters she played. I looked up and saw the same face that I had seen many years before I couldn't help but break a real smile, one that reminded me of the fact that this was an child actress that had sold me on the part she was playing hook line and sinker. Needless to say when she smiled back She made me realize that this was the real person. Thank you very much for that moment.
---
Drat! I found your site just a few days too late. I read in a friend's copy of Star Trek Communicator about Pamelyn's last appearance at the Grand Slam convention. Another friend of mine lives in California and always goes to these things. He asked me if there was anything I wanted from the '98 con. Couldn't think of anything. Then today I'm searching for info on that well known Pamelyn look-alike Cathy Silvers and find your site and discover Pamelyn was there again. AAAAARRRRRRRRGGGGHHHHH!!!!!! So, any news on getting autographed photos from her?
Aside from that, love the site, love Pamelyn. I remember her from almost everything I used to (and still) watch Odd Couple, Wanda June, Beguiled, Charlie Brown, Brady Bunch, Star Trek, Paul Lynde and on and on and (as you have shown in your credit list) on. Great to know she's still out there.
---
>What do you know about Cathy Silvers?
Not a lot. She's one twin daughters born to Phil Silvers around 1960 (The other twin' name is Candy). She was in the last 4 seasons of 'Happy Days' as Jenny Piccolo (her acting debut as far as I can tell). A TV film called 'High School USA' in 1983 which I seem to recall features a stack of young TV types from Happy Days, Different Strokes, Family Ties, Facts Of Life etc as students and Mary-Anne from Gilligan's Island as a teacher. (Gosh amazing the memories I can dredge up. I also seem to think Bob Denver & Dwayne Hickman were in it too.) Then a short-lived series called Foley Square in 1985. Did the voice of one of the characters in the Sesame Street movie, 'Follow That Bird'. Had an unrecognisable cameo as one of the efficency experts in the Sgt Bilko movie. Has a recurring cameo on a show called Two Something on Fox (Never heard of it) and runs a catering business. I also found a mention of her as appearing on a game show called Tattletales in 1982 which I assume has celebrity couples as guests (I'm from Australia, I don't see these things). She was paired with someone called Peter Doter (husband, boyfriend, love, complete stranger?) I've dropped a note to a Phil Silvers site which one of his other daughters seems to visit, to try and get more info. Uncanny resemblance though huh? Attached are the only two pics I've been able to find of her on the net. One is obviously from Happy Days, other is from Foley Square. Gee maybe I should start a Cathy site. Or a Pamelyn look-a-likes site. Ah well. Hope you found this interesting. [Ed. note: Oh, yes. You don't know much about Silvers, do you? Here's her picture, with Joanie Cunningham removed for safety's sake.]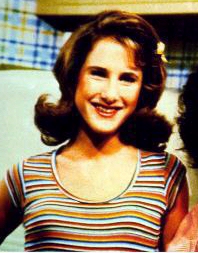 ---
I really love your Pamelyn Ferdin page. I have always admired Pam and was wondering what was going on in her life now. I have seen almost everything she has been in and think she is a wonderful actress and such a pretty girl. I have your page in my list of favorites. I think it is wonderful that Pam has seen it.
---
Enjoyed your Pamelyn Ferdin page, brought back lots of memories.... Maybe I scanned it too fast and missed it, but it seems like you missed mentioning Pamelyn's appearance on "The Dating Game"......now, mind you, I'm getting older and the memory's not all it used to be, but I believe that Pamelyn, along with Susan Neher ("To Rome With Love") and some other girl were the bachelorettes, and (if memory serves) Donny Osmond was the prospective date. Or I may be mixing up two different episodes of the show. In any case, thanks for all your research; a most enjoyable read!
---
Seeking apparances of Pam from the 70's? I carry the best in 'classic,rare,and unusual/ classic Tv,Movies and music! I currently have in nice quality the complete run of 'Space Accademy'(over 3 tapes),and Pam's apparance on 'Shazam'(as well as all 28 episodes of this series).as well. More information contact me at Videmail@Webtv.net Really enjoyed the site!
---
im about her age. i grew up with her as lucy, and in other roles she was very ubiquitous in those days. Looking back on it now, I cant imagine such a little girl with sucy talent. I was a smart kid, very aware for my age but I could have never acted as she did. She will be frozen in time for generations and that is an amazing thing for any movie actor. Very talented comedienne.
---
What a great page! I stumbled onto it and enjoyed reading through it. Ferdin, along with Josh Albee and Radames Pera, was a favorite of my youth and I often wondered what happened to her.
---
after just seeing two reruns today (brady bunch and family affair) with "that girl i remember from The Curiosity Shop" i caught Pamelyn's name in the credits and found this website. thanks for keeping my childhood fantasy's alive.
---
i came upon your page quite by accident while i was surfing for my own name (wondered if i was out there on the net somewhere). Ferdin is not a very common name. With the exception of my family i don't know anyone who has it. Is it Pamelyn's stage name?
---
My wife and I were sleeping in this morning and I turned on the t.v. to help me wake up. Pam was on an episode of Gunsmoke. She looked to be about nine years old. I said to my wife, "Wow! I had such a crush on this girl when I was a kid!" She said,"That's nice!"...and went back to sleep. I waited til the end of the show to find out her name, and then I visited your website. I am 37 now, and I have always wondered what happened to the first "celebrity" I ever fell in love with. Now I know.
---
I was a huge fan of Pamelyn Ferdin when I was growing up and was secretly jealous that I could never be as pretty as she was, but I loved everything she was in. I don't know if the following information is a worthy entry to your fan mail page or not, but I thought it might be interesting to everybody to note that if you check some of the search engines (AltaVista is the one I use most), you'll discover as I did that Pamelyn has her share of fans who go beyond mere admiration for the actress's talent. I'm referring to a Web page called "Little Feet on the Big Screen" -- www.tyflas.org/movies -- a site for, would you believe, pedophilic foot fetishists! On that page are listed various films which have featured female child actresses who appeared barefoot in their films. And prominent among them are, yep, you guessed it, Pamelyn for her role in "The Beguiled." I wonder if she ever had any idea when she was still in the business that her very feet would someday be the object of adoration by certain of her "fans."
---
Just watched her on a Comedy Central odd couple episode and thought I'd look her up in IMDB which led to your site. Excellent job however I don't think the object of your attentions is worth it. I remember very well when she was in her heyday and on everything. I thought then and think now she is/was creepy. Sweet in a phony kind of way that I assume even her 11 year old peers could see through. I am not surprised to see she is an extremist with views on kids population and animals that could only be mainstream among not very bright junior high students or the hollywood "elite" (which our girl would love to join if only she could rustle up some talent. Hope she enjoys the Star Trek conventions, that's her speed.
---
Well, here I am 44 years old and I've just stumbled onto your page. I've always wondered what happened to Pamelyn. When she stopped appearing on tv, I feared something had happened to her. I went to great effort to commit her name to memory way back when. For some reason, I found it as hard a name to remember as it was easy to remember this lovely, awesomely capable young actress! You have taken me back to the many times I'd feel a vague ache around the heart as I watched tv in escape from my alcoholic home. I never called attention to her performances for fear I'd be ridiculed for "Puppy love". Pamelyn was the Princess of my dreams. In my childish mind, she lived a wonderful life which I longed for without hope. I "grew up" things worked out as things will, but such emotions, although put aside are never completely lost. I hope she knows that at least one skinny kid was helped through his day by her performances. And one middle aged guy remembers her with tenderness now.
---
I didn't see this on your site, but isn't Pamelyn operating a console on the space outpost that V'Ger toasts early in the picture?
---
I am so glad that you recall with fondness the wonderful career of Pamelyn Ferdin. Growing up, my heart would always skip a beat when she was on T.V. I just love her voice and that pretty face. Now that I'm a very youthful 40, and happily married, I still think of Pamelyn often and wonder how her life turned out. Thanks to you and this site, I'm glad to see she is happy. She is still as pretty as ever and hope that someday her voice and image will once again grace my television screen in a new endeavor. Until then, I shall always remember and cherish my childhood crush I had on her. I was hoping since you have contact with Pamelyn, if I give you my home address, do you think Pamelyn would send me an autograph picture? I would be very greatful to you both. Please tell her I still think she is wonderful and still occupies a special place in my heart. Yes, it still skips a beat when I see her on, The Odd Couple, Star Trek, etc... Thank you so much for such a wonderful web page. And thanks in advance for the picture.
---
Congratulations on a great tribute! I just finished watching the Flying Nun episode where Pamelyn plays the little girl who wants to be like Sister Bertrille. She was so young, but even then her pretty face and voice were so distinctive. I remember her also from the Brady Bunch episode in which Jan wears the black wig. Pamelyn was only very briefly featured, yet she was so memorable. She seems like a very beautiful, natural person.
---
Just wanted to let you know that I really enjoyed your web site. I have also been a fan since the Curiosity Shop.. I have read through the extensive information that you have provided.. GREAT JOB... Maybe someday we will be able to email her directly...
---
Thank you so much for the web page on Pamelyn. Of course I noticed her in all the shows I watched growing up, but when I approached the teen years I figured out that she was about my age and I developed a crush on her! It was great "catching up" and reliving those years.
---
I want to compliment you on your Pamelyn Ferdin page (which I found while searching for Hollywood "starlet" sites). I've always like PF, having grown up watching her, mostly on TV (but my favorite performance is in The Beguiled -- eerie movie, and PF does an exceptionally good job of playing... well, an equally eerie kid.) I have the issue of Baseball News with her interview (that's why I bought the zine) -- she has turned into one pretty woman! Because I like your page so much, I want to extend a "formal" invitation to you to join my Web ring. I don't make a dime off the ring, and I don't extend personal invitations to just anybody… I want quality sites in the ring – and I'd be proud to have you join. The Girls of Hollywood Web Ring is for sites with pages devoted to (or with significant information on) actresses considered "starlets" or "ingenues" during the 1950s, 60s and/or 70s, and/or their movies (from any era) or other projects (from any era) -- Carol Lynley (I maintain The World's First Carol Lynley Fan Page (which Carol has seen and enjoys) at http://www.amuseyourself/lynley.htm), Tuesday Weld, Yvette Mimieux, Pamela Tiffin, Suzanne Pleshette, Barbara Parkins, Judy Geeson – you get the idea. I know PF doesn't exactly fall into the above category, but she is/was a young star, and seeing your page provides a really nice rush of nostalgia for me. Anyway, the ring is brand-new, but I expect a healthy response from webmasters like us who have a "thing" for these ladies – and consequently, a boost in site traffic for all of us. For the full lowdown, please visit http://www.amuseyourself/gohwrinfo.htm. Once again, I'd love to have you in the ring!
---
If you think the following contribution to your fan pages is worthwhile, then use it. I've not found the perfect way to put all of this, but I thought you should have something about Pam as a real person. I guess I've been a bit hesitant, thinking that some overzealous "fan" my try to figure out who I am. You are right about the comments being heartfelt -- they had a most interesting effect on me, one of utter shock! I knew that Pam was on TV, in movies, and the like, but I was absolutely floored by your careful listing. I never was much into TV or movies, so I was unaware of about 95% of the items!. I guess I have a hard time getting in touch with the fact (at least I think it was not a dream) that I used to sit with "the prettiest girl on TV" at her dining room table, going over schoolwork. To find out 20+ years later that she had deeply touched so many lives with her acting, yet she shared some real time, as a real person, with me, is utterly amazing. Well, here goes nothing... Like most of your contributors, I too "grew up" with Pamelyn Ferdin. But I'm not really a "fan". Pam and I were classmates throughout junior and senior school. I considered her to be one of my friends, and it always pained me to see the way she was treated by most of the people we went to school with. A mean-spirited bunch, they were. I know Pam was and is a real person, because she allowed me to see a side of her few knew about -- Pam the serious, but struggling, student. Through those years that she was appearing on movies and TV, she was also trying to get an education to help her reach her goals, and I had the privilige of tutoring her at various times during this trying and turbulent period in her life. I was glad to see she did become a nurse. I knew she would, but I lost contact with her shortly after high school. Use this if you want to, or throw it out. Again, thanks for an informative site.
---
Your site does not mention anything about Ms. Ferdin's educational background. Did she attent the University of Southern California? When I was at USC, I knew a young woman whom I think is Pamelyn Ferdin. I remember that she was an actress and used to run off to call her agent. I remember her from a vocal music class where we were often paired because we're both short and we did these silly warm up exercises and had to put our hands on our partner's shoulders. Your site states that Pamelyn Ferdin was born in 1959 (or possibly 1960). Since I was born in '59, she and I would have been in college at the same time. We were not close friends (obviously, since I'm not sure I even remembered her name right) and I'm not really looking for her. But, I'd be delighted to know if this is the same person. And if so, I'd be pleased for her to know someone shared a memory from teenage years. [Ed. note: Pam confirms she attended USC.]
---
What a cool web site! I have the Soundtrack (on LP of course) to "A Boy Named Charlie Brown". Pam did the voice for Lucy. Over the years I have played that record over and over. Pam did such a good job as Lucy!
---
Okay, I admit it, I can't remember the specifics of the movie and God knows how long ago it was I saw it, but I seem to remember a rather creepy movie where she played the ghost of a little girl. It involved a con-game paranormal type plot but I have yet to find it in the data base. Perhaps you know?
---
Hi! A friend of mine told me about your page; I love it! Very informative! As a big fan of "The Odd Couple", I noticed an item missing from your page. I'm sure it was just an oversight. Pamelyn's first appearance on that show was not as Edna Unger, but a girl the guys met on a camping trip, in the episode entitled "Bunny Is Missing Down By The Lake". Once again, great page!
---
To me Pam has always been a secret treasure. I first saw here in Sigmund and the Sea Monsters, but got a crush on her in Space Academy. I wouldn't be the romantic I am today if I hadn't seen her. She has this effect on everybody, right?
---
First of all, THANK YOU for doing a page on Pam. I grew up in the 60s. I remember Pam and Lisa Gerritsen and Cathy Silvers and a bunch of other beautiful actresses from the 60s. I always wondered what happened to them. Its nice to know that someone is keeping up with them. I really enjoyed Pam in the Star Trek episode. I was also glad to see her in CHiPs. I think that was the last time I saw her. I wish she would revive her career. Keep up the good work. I will keep checking back on your web page for updates. If you can get Pix and bios on Lisa and Cathy that would be great.
---
Wow! This is terrific. I just got connected to the web via WebTV, and for a lark I typed in the title "Daughter of the Mind". I have been wondering about this movie for several years. I first saw it on television when I was just a child. I have looked in video stores for a copy to no avail. When I saw Pamel Ferdin's picture, I said to myself "that's her". Can you please tell me if you know of any place that I could rent or buy it. It was a really scary movie, and I would love to see it again.
---
I am developing a web page for Lindsey Haun, a young actress, and I was doing some research on child actors/actresses who had played similar roles. I remembered the Children from "Star Trek: And the Children Shall Lead," which is surprisingly similar (but with a far happier ending) to Village of the Damned (1995) in which Lindsey played Mara, the leader of the Children. I was so pleasantly surprised to find a top quality site devoted to Pamelyn---with beautiful pictures that allowed me to verify that, indeed, I had the correct actress. I hope Lindsey has a career so long and distinguished as
Pamelyn.
---
pam sighting
today in santa barbara in front of nordstroms
fur protest
what a lady
great website
thanks
her husband was there also in fine
fighting form
---
I am not a bit surprised that I am but one of the millions that had a crush on her. She was better than "Marsha Brady".
---
Just a note to thank you for your Pamelyn Ferdin page. I'm happy to know that she's doing well, although I would love to see her acting again from time to time. Great talent, great gal, great memories! Congratulations on an entertaining and informative site!
---
I was really glad to find this web page. I was so jealous of Pam as a child I was very curious as to what happened to her I am glad she is doing well. she and I have something in common we share the same birth year and day but not the month it seems Pam is 8 months older than I am where was she born?I am a 70's trivia nut.
---
Loved your page very detailed,my memories of the Actress Pamelyn Ferdin was from the TV show Sigmund and the Sea Monsters in the early 70's being 7 years old it was a instant crush that lasted through her career on saturday morning tv and my pre-teen years LOL. I want to thank her for giving one kid his first crush and seeing her recent picture on your page she is still as beautiful as I remember. A Generation X Fan
---
Really enjoyed your web page. Thank you. Am I wrong? I thought I remembered Pamelyn as one of the "Kool-Aid Kids" on the Kool-Aid commercials - from when I was a kid. Can you check for me? I'll be back.
---
I remember the disney movie "The one and only genuine original family band" on Pamelyn Ferdin who played Laura Bower with a Wind Instrument "Ocarina" I like to see the picture of her holding the Ocarina in her hand. in the movie Kurt Russell lifts her up in the song called:"10 Feet of the ground"
---
What a find! I love pamelyn and thought she had disappeared! I had always been curious how she had grown up or where she had gone since I hadn't seen her in the public eye so much recently. The web site is great. How can I reach Pamelyn Directly?
---
im a big pam fan i was writing to see if u have a brady bunch pix of lucy winters she played in 71 if u don't go to bradyworld.com an ask her to send u pix of her. how old are u
---
Besides working with Pam on Family Affair, she was also a guest star on Sigmund and the Sea Monsters. If she ever sends you E-Mail please send her my E-Mail address.
Johnny Whitaker. [Ed. note: Yes, *that* Johnny wrote me.]
---
Wow! Thanks for creating this page. For a few minutes tonight, I was a kid again. A kid with a crush on a delightful girl.
---
To the one who heard the women saying insulting things about Pamelyn and said it nearly broke your heart:I have been through the exact same things.In 1973,when I first realized how prolific and unique she was,I wanted to find other people who knew of her-and found some people who actualy hated her.It is sad but true that what charms some people annoys other people.I've heard her voice described as strange-queer-nausiating-wierd-and a few other words I'd rather not mention.I felt a small sense of comradeship when I read her interview on this web page-and realized that the same time I was hearing others insult or demean her,Pamelyn herself was being teased at schools.(It is so awful how mean school-teasers can be!) No wonder she quit acting as soon as she was old enough..
---
Hi! I've been thinking of her SIGMUND.. appearance (and requestign DREAMWEAVER's site to put that pic up.Her BEGUILED appearance is Ferdins only other use of the pigtails-do that she had in that episode.) Pamelyn was Susie in BANANA SPLITS IN HOCUS POCUS PARK, live and animated (a la Don Knotts in INCREDIBLE MISTER LIMPET,1963) (the Spltis for the first and onyl time become toons too!!!!), and it's an odd sight to see. (Feel free to put this on the fan page!!!Been loking for the Sigmund episode BTW) It was aired in 1973 as a segment of ABC SATURDAY SUPERSTAR MOVIE. I noted that somweone wrote off her cuases as elite and phony :"even at 11"(from the second part of the fan page :() BTW The day Pam was born was the day afetr the ?msic died"(Feb./3,1959!!!!!) CHARLOTTES WEB appeared before.Pam's vocie is so cute. BTW I think if she does any voiceovers it's the vocie of the CARTOON NETWORK TOONHEADS,as it almost sounds like hr,but don't get your hopes up,it's just a speculation on my part.:) I'.m 38,BTW
---
Enlightenment stuck me today. I realized that I had recently searched the Web for information on a book printed in 1718 in Latin and Greek. What chance would I have to find something extremely obscure like "Sublimitate Libellus" on the Web? Needless to say I found plenty of sites. It occurred to me the same could be true for "Pamelyn Ferdin".
It's funny, the Web I mean, the way it can make scattered fragments of the world so accessible. It continues to have an affect on us all, in new, unexpected ways every day.
The search netted results in seconds. For nearly 20 years I wondered what happened to this talented young lady. A couple of months ago I thought I saw an extra on the Stargate 1 series (on Showtime cable) that looked a lot like Pamelyn. I only got a glimpse and never did see the credits. Of course I hadn't see her in ages and had no idea how the years had treated her. Needless to say the photos on your site prove she is as attractive as ever. I still don't know if it was her, probably not, but then again?
I've asked people occasionally if they remember her. Sadly none did. Just another child actress gone to parts unknown. I'm not really a "fan" for anything, but I have always thought she would do well and enjoyed watching her career grow.
I was a bit surprised to learn from your site that she is such an animal rights supporter. Hunger stike? I have a fair respect for our furry "friends", but not quite that much. I guess you have to respect her committment.
I'm glad to see she is faring well and wish the best for her future. It would be fun to see her on the screen again (big or little). I'm sure Pamelyn is as charming as ever.
---
I just found your site. It brought back many memories of Pam - and my childhood! Question: Where can I get an autographed picture of Pam? I don't really collect such things, - nor am I starstruck - but recently, through watching old movies and tv shows, I decided there are a select few autographs I would like to have.
---
How could I go about getting an autographed photo of Pamelyn? I collect child star memoribilia and I would love a photo of her. Any info would be greatly appreciated.
[Editor's note: This is an incredibly common question. The answer is on the web page. Write to her talent agency.]
---
Hi, I just have a concern. I know Pam was the greatest! Would you please let me know the history of her last name which happens to be my first name? I have been trying so hard to find out the history of it. Could you please post that she has a wounderful, marvelous last name? Not because it is my first name...
---
I emailed you about two years ago about Pamelyn Ferdin. Well since then I stumbled upon her email address and got the courage up to send her email. I got a nice response back and she sent me an autographed picture! I've never seen this picture before and in my opinion it's her best photo. None of the ones I've seen are as attractive as this one. Looking at the signature and the writing on the envelope the two match so she addressed the envelope as well! (Needless to say I'm keeping the envelope) Also the signature on the picture on your web site to Michael and mine match so it was her!. (Fascinating handwriting she has.) Don't worry, I haven't sent her email since. I don't want her to think of me as a pest. Anyway besides meeting her in person, I'm satisfied.
---
Hello Pam, I saw you a lot on television but I remember you as Felix's daughter on the Odd Couple. It was one of my all time favorites. I have written to a few celebrities and I must tell you, its so exciting!!! You were always so recognizable when you guest starred on a program. I can still hear the sound of your voice which was always so clear. I hope you dont mind my writing to you, it is so much fun and sometimes I get to see a rerun of the Odd Couple and you happen to be on a particular episode. I am 43 but still a kid at heart. Have a glorious day and if you can, please send me a hello. Thank you for many pleasant memories, God Bless You. [Editor's note: You're not talking to Pam, you're talking to the guy who made a web page about her.]
---
Just wanted to say you have a neat web site. I have watched the Monkees episode which credits Pamelyn Ferdin at the end, and she does not actually appear anywhere in it, that I can see. She is credited for playing the part "girl" and there are credits for "mother" and "Tina" and none of these characters seem to be in the episode. It would seem to me a scene got cut but the credits remained. Either that or the credits belong to a different episode (???) By the way, the English translation of the synopsis of "Streets of San Francisco" could use some fine tuning, if you are interested.
[Editor's note: Pamelyn replies to the question of whether she was really in this episode in this way: "Oh yes, I was in a cute little sailor dress with a huge lolly-pop on a "supposed" beach (the back lot of Screen Gems.) I think I was a part of one of the Monkee's songs on the show." However, she may have been filmed, but a fan says she's not in the Rhino version of the episode.
---
That is really great that you were able to go right to the source and ask! I am impressed. But I tell you what, I watched that show again and there is just no way she ever shows up in that episode, except as a name in the credits. The credits also list a Monkees song that was not played in the show, even though two others were. I don't know whether that has anything to do with it or not. I guess I need to check with a Monkees expert and see if there has ever been another version of this episode. The one I am watching is from Rhino and is supposedly restored to original. It just doesn't even seem like there is anywhere there would be a little girl. It is all about teenage beach movies and there are absolutely no children in it.
---

I don't know what made me think of her- but thanks for your page- I wondered what had happened to Pamelyn Ferdin!
---
Don't know how I stumbled upon your Pamelyn Ferdin Web Page (I was home sick and surfing), but what a treat!! I was an avid Star Trek viewer as a child, so of course I remembered her from that episode and as the voice of Lucy Van Pelt (watched that every year). I also remember the movie - Daughter of the Mind very vividly - I think these used to be called TV Movies of the Week. I am about 5 years older than Pamelyn, always admired her and heard nothing about her in recent years until now. I, too, became a registered nurse (but married a jeweler, not a surgeon) and admire the work she has done for animal rights. Well I just wanted to say "thanks". I truly enjoyed the web page that you have worked so hard to put together.
---
Wow, the memories. I loved finding this web site dedicated to Pamelyn Ferdin. I remember her well from the 60's and 70's. I remember having a big crush on her as I'm sure many guys did. I think it is sad that she was forced into a career in acting. I remember as a child thinking that those kids on TV had it made, that they were living in the lap of luxury. As a child it was impossible to separate reality from fantasy at least for me. As an adult I realize that being in Hollywood doesn't mean your life is a bed of Roses. It sounds like she had a pretty hard childhood, spending it trying to make her mother happy and making herself miserable in the process. I admire her for giving it her best. I believe our childhood is something we never get over and I can see that her activities now as an adult by her own admission bear this out. I can relate to her feeling like a loner because of the cruelty of our peers. Although she wasn't happy as an actress I am thankful for the memories of her and hope she has found happiness in her adult life. I wish her the best and agree with allot of her views on animal rights etc. Thank you for making this web page about her career it brought back many memories.
---
Hi sorry to keep bugging you but I found something that be of interest regarding all the various credits in Pamelyn's career. It's from the press information to Heidi's Song, which has a brief write-up on all the voice actors who perform in the movie. Here's what it says about Pamelyn: "The versatile PAMELYN FERDIN is featured as the voice of the frail Klara Sessman in Hanna-Barbera's "Heidi's Song." Ms. Ferdin is perhaps best recognized as a series regular on TV's "Lassie" and "The Paul Lynde Show." Some of her other many television appearances include several special guest star roles on "The Streets of San Francisco," and co-starring parts on various "Marcus Welby" episodes, the ABC-TV movie-of-the-week "The Forgotten Man," a "General Electric Theatre" special, and "Shazam," the children's series. She has co-starred in such theatrical motion pictures as "Beguiled" and "Mephisto Waltz." Ms. Ferdin has a long association with Hanna-Barbera, having voiced the main characters in "Sealab 2020," "These are the Days," "Oliver Twist and the Artful Dodger" and the animated motion picture, "Charlotte's Web."
---
I'm just sending my brief un-clever e mail to let you know I enjoyed your Pamelyn Ferdin page. She was a fixture in mine and my little sister's 70's pop-culture-laden childhoods. OK we called her the "Uggy Girl", but it was really because we were jealous. She got all the good roles! I stopped calling her that after I saw Tree Grows in Brooklyn, because that one really showed her range. I swear that not only was she in both a Star Trek episode and Space Academy, but was not Brian Tochi also in both? I can see I'm going to enjoy all the links your page offers, too.
---
That's a cute site you put together on Pam Ferdin. I was doing an internet e-mail search for her and found your site along the way. I've wanted to contact Pam for the last three years, or so, since I saw her during a local news broadcast here in Connecticut. The report was on a "deer-culling" operation in Groton, CT and Pamelyn was there with some animal protection people. She was astonished and disgusted when a deer not far from her was shot by one of the hired guns. It was a brutal scene and I could see how intensely she was focused on the problem of cruelty to animals. Anyhow, I can write to the L.A. agency you listed, I guess. I just don't want to wait a year before they get around to forwarding mail. If you want to forward this e-mail to Pam for me, that would be great. If not, that's okay. I don't really have anything interesting to say. Just wanted to thank her for her efforts.
---
Thanks for the web site! "ITIWTOO" "I Thought I Was The Only One". Not the greatest acronym... oh well. I couldn't read all the info, will be doing so later. I'm 36, a school teacher in N.W. Michigan. Ms. Ferdin seems to have stuck with a great many people (ok, mostly guys) for a long time. Yet I always thought nobody really knew of her, yet every time I saw her on a different show, it was like BANG! There she is. What is the possibilities of the autographed pictures you've been mentioning? Hoping to hear a reply. Thanks for your time!
---
Very late last night I found your site and decided to e-mail you then. Upon further reflection (and some much needed sleep) I thought I'd restate some things. Knowing there is a possibility that Pam might see this herself I'd like to say to her "thanks". Thank you for the actress you were, the memories you gave me, and the woman you've become. I'm a 36 year old male and it occured to me that so many people remember her, that it's hard to imagine how much of an impact movies and T.V. really do have upon our lives. As a youngster, I went to school with a girl who's father was a pro-baseball pitcher. It seemed there were alot of kids that didn't know what to do around her, so they were mean to her. Mostly girls. Pamela, know that there WERE silent friends. From your current out-spokeness it seems that you have grown into a "Real" woman, unlike your tormentors. I had my own too, most of us did. Congatulations upon knowing your own mind and following up on your convictions. If more people could or would do this, it'd be a better world! I also want to say (in closing) thank you for making contact with this site. Between this and the "Trekkie" conventions, it's nice to know you've kept your acting career in proper perspective. ************* Side note to Jfuast: thanks for all your time and hard work! Your site is a well done tribute (in my opinion) to Pam's career in acting and her current life. :) Now, again, about those autographed photos...
---
Thanks for the great page! I noticed Pamelyn when I was a kid in the 60s, when she seemed to be on TV every time I turned it on. I remembered her name and have on occasion wondered what happened to her. I got the idea a few minutes ago to look for her online and found your page! I'm so glad to see that she didn't end up like so many child actresses.
---
Return to Home Page - Jump to fan mail page one, two, three or four.